5th March 2006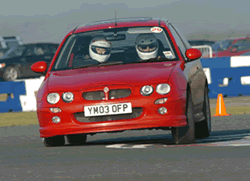 18,000 women apply for Formula Woman race championship
Over the past three years, over 18,000 women have applied for a chance to be in the Formula Woman Race Championship. All contestants had to be novices with no previous motor racing experience. After several tough elimination rounds, Suzanne Dignan, from Barrow upon Soar near Loughborough, is down to the last 100, for a place in this year's race series.
The final stage of the selection process is an elimination camp to be held in June. Three days of intense competition will include outward bound style challenges, fitness tests and speed driving in Caterham Roadsport race cars.
Suzanne has been training hard for the past few months with a combination of fitness programmes, karting races and track days at UK race circuits. The MG Car Club has helped her through their MGs-on-Track facility and she has enjoyed race style experience at Silverstone, Donington Park and the fantastic Jonathan Palmer complex at Bedford. Suzanne has also enjoyed a little help from her Dad, an ex-production test pilot and nine times MG race and speed champion, who has been coaching her in a Westfield and an MGZR. As in any modern sport, the standard of competition is very high. Without serious training and practice it is just impossible to reach the top levels. Over the past few months of training, Suzanne's natural ability has come through, with steadily improving confidence and skill.
To help the 100 finalists appreciate what they were aiming for, Formula Woman organised a weekend of racing at Pembrey circuit in South Wales. After pre-training to gain their race licences, the majority of the girls took part in testing, qualifying and their first ever car race. Suzanne, who was sponsored by Harlequin Fabrics, had a fantastic weekend and managed 4th place in her race. She may be able to compete in another Formula Woman organised race weekend before the elimination camp, but the rules of the competition do not allow any other competitive circuit racing before the final selection. However, they do permit practice in other disciplines of driving and motor sport. With this opportunity in mind, Suzanne has entered the MG Car Club's Speed Championship, which starts in April and comprises a series of sprints and hill-climbs around the UK. She will be competing for the novice and the ladies speed championships and promoting female participation in this branch of the sport.
At all the championship race venues this summer, Formula Woman is providing corporate entertainment for sponsors, including those that sponsor the individual women drivers. There is also the facility to hire the race cars and allow sponsors and their clients to experience the race circuits. As part of a commitment to Formula Woman, ITV are covering all eight championship races. The identical Caterham race cars, all owned and managed by Formula Woman, are allowed to carry individual sponsor's logos and sign writing. The series promises to be great fun and an outstanding success.
Information on formula woman is at www.formulawoman.com where you can read about the competition. Photographs of Suzy on her track days are available on request.
Please contact on 07746 217888 or suzanne_dignan@harlequin.uk.com for further information.