22nd June 2006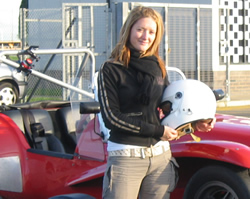 Suzy Dignan on her rise to the last 100 Formula Woman contestents
Suzanne Dignan has been around cars and motor sport all her life. Her Dad John is an ex-test pilot, RAF international rally driver and 9 x MG race and speed Champion; her brother Peter was double MG race Champion in 2004 and her Mum Pauline has twice been Ladies MG Champion. With a family like hers there is no surprise she has ended up behind the wheel of a race car!
But funnily enough as a child, Suzanne had never even contemplated becoming a racing driver; instead she spent her days dreaming about riding horses in the Olympics! However, most of her weekends, to her dismay, were not spent at horse shows as she would have liked but beside the race tracks of just about every sprint and race circuit in the country, while her mum and dad competed in the various MG Car Club Championships. "They used to take me along to every race venue and mum had to change my nappies in the (sometimes) dingy toilet facilities! As I got a little older my sister and I used to insist on dad bringing our push bikes as we found it so boring otherwise! I do find it really weird to go back to these circuits as a driver and remember the oddest details about the paddock; I hadn't even looked at the track before!"
In her late teens, Suzanne eventually had the independence to choose not to go along with her mum and dad to the race tracks but to spend every weekend at the local stables helping with the horses. As she developed her riding skills and bought her own horse, her competitiveness started to show as she won countless rosettes and trophies at horse shows and eventing.
This all changed in her early twenties when a medical problem caused her horse to retire early in his career; this was a dreadful blow for Suzanne and she was quickly looking for another opportunity to carry on with this sport. However, by this time she was working for Harlequin Fabrics and a couple of guys in the company had organized a Go Kart race at the local circuit, knowing she was a good team player they invited her along and were most impressed when she managed to beat them all! "We decided to set up a company team and as I was the quickest driver my team mates would send me on whenever we needed to make up some places. I loved the adrenaline rush of racing and I'll never forget the look on the other men's faces when I took off my helmet and they realized it was a girl!"
Suzanne's Brother Peter, who could see Suzanne's potential, was the one who suggested she apply for the 2006 Formula Woman Championship, and two elimination stages later she is now down to the last 100 women. "In the last year it has become such a dream to be in the Formula Woman Championship and knowing how competitive I am, I should be in with a good chance. I would like to thank my Dad and my Brother for all their support and advice".
Suzanne's Sponsors:

Harlequin Fabrics Ltd. Pilotwise International Ltd LA Fitness Hilary Coachworks William Davis Toyo Tyres
Information on formula woman is at www.formulawoman.com where you can read about the competition. Photographs of Suzy on her track days are available on request.
Please contact on 07746 217888 or suzanne_dignan@harlequin.uk.com for further information.