23rd February 2006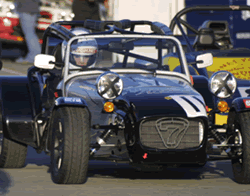 62 females compete at Pembrey Motor Race Circuit
Last November, Suzy Dignan from Loughborough and 61 other novice female racing drivers went for a new world record when they competed in the four Formula Woman Novice Races at Pembrey, South Wales – never before have so many women raced in the same motor sports event and a claim has been submitted to the Guinness Book of Records.
The other race goers (almost exclusively male!) were bemused by the number of drivers with long blonde hair and the circuit restaurant had to purchase an emergency supply of cereals and fruit to supplement its normal fare of fried food. There was even a nutritionist on hand and Formula Woman marshals manning the marshal's posts. In short, there were girls everywhere!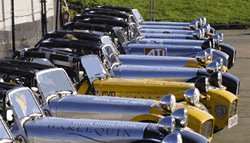 Suzy had a superb weekend and qualified 6th on the grid for her race. She was driving a Caterham Roadsports open two-seater, sponsored by Harlequin Fabrics of Loughborough. The race set off at a terrific pace with the first six cars battling hard and frequently swapping places. After 6 laps of the 12 lap race Suzy was lying 4th with only 2 seconds separating the front 4 race cars. Then, just as things were getting really exciting, an accident between two other cars unfortunately blocked the track and the race had to be stopped. Time constraints prevented the race from being re-started and Suzy was denied the chance of making it through to lead the race. The race order at the end of lap five was declared the final result, and Suzy had to be content with a 4th place - as they say "that's motor racing".
The prize for the race winners was automatic entry for the 8-round 2006 Formula Woman Novice Race Series, which will feature at events throughout the UK. Suzy will now join the remaining women who will be attending a Formula Woman 'boot camp' in June, from which the final 12 entrants will be selected for the Series.
As part of a commitment to Formula Woman, Channel 4 is compiling a documentary on the build up to the series and ITV are covering the actual races.
Information on formula woman is at www.formulawoman.com where you can read about the competition. Photographs of Suzy on her track days are available on request.
Please contact on 07746 217888 or suzanne_dignan@harlequin.uk.com for further information.