23rd May 2006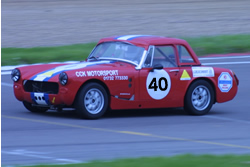 Red flag incident causes mahem for Peter's engine cooling at Snetterton
Following Peter's succesful first outing at Donnington Park the second round was not as good for Peter. The qualifying session went according to plan with Peter securing a top 5 grid position, while still suffering from lack of power in his Class C engined car.
"It was very hard work trying to carry the speed with this engine, and the acceleration is drastically different compared to the other competitors in the class. But with the rain clouds threatening it could be good for us." Peter commented after the qualifying session. But it wasn't all bad news! "We are in the process of building a new engine for the big MG Silverstone weekend which will drastically change our performance in the second half of the season"
The clouds as predicted by Peter opened for the race, the ideal weather for the lack of power, and Peter took off from the grid into third place in class. With a daring overtaking monuevour coming through the esses Peter managed to get into second in class and set the quickest lap time for the class in the process. But just as Peter got into another second place the red flags came out causing the race to be stopped.
As the halfway point in the race hadn't been reached the results before the red flag were classed as null and void and used to form the grid for the new race. This was good news for Peter as he was now second in class and a very credible 8th overall which led for a great chance to win the class. But with the time on the grid it caused the engine to get hot and distribute the heat to the distributor, which was wrapped up to protect it from the rain and meant the heat had no where to go. On the second green flag lap the car eventually spluttered to a halt and Peter had to retire before the start of the new race.
After the race Peter was disapointed. "It was frustrating watching the other cars go round in the ideal conditions for the car. But we will put this race behind us and get ready for the next race at Oulton Park"
Peter is currently supported by Classic Cars of Kent, based near Tonbridge Wells.
Information and full race results for the MG Midget Challenge is at www.mgmidgetchallenge.co.uk where you can read about the championship. Photographs of Peter on his testing and race days are available on request.
Please contact on 07803 904186 or dignanracing@mytechnology.co.uk for further information.