25th July 2006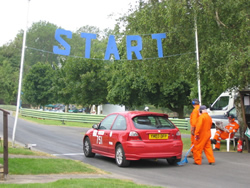 Suzy Dignan beats Ferraris Porsches and Morgans to claim prize
On a wet track at the Bugatti, Classic and Vintage Meeting Suzy shows what smoothness and delicate driving can achieve in her MG ZR 105. The 105bhp car managed to climb the hill and negotiate the tricky corners in the wet faster than the lady's driving more expensive and powerful machinery.
The Formula Woman contestent, Suzy Dignan, has now moved to 2nd overall in the MG Car Club Speed Championship and extended her advantage as the quickest lady in the series following her mother's footsteps.
Suzy has been competing in the MGCC Speed Championship to gain experience and skill to help improve her competitiveness in the Formula Woman championship which starts with the first race at Pembrey on 29th July.
Information on formula woman is at www.formulawoman.com where you can read about the competition. Photographs of Suzy on her track days and other events are available on request.
Please contact on 07746 217888 or suzanne_dignan@harlequin.uk.com for further information.