30th January 2006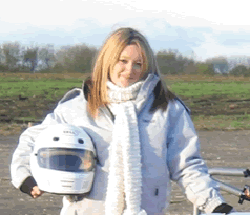 Loughborough racing girl beats 10,000 hopefuls to reach Formula Woman finals
Suzanne Dignan from Loughborough, has been chosen as one of the 100 women who have made it through to the final stage for ITV's Formula Woman. Along with 2000 other hopefuls Suzy took her assessment on Sunday 23rd October at Dunsfold Park, Surrey.
She was picked from 10,000 applicants for the assessment stage and trained with Club Formula Woman.
Suzy has always been into cars and racing, having grown up watching her mum Pauline and dad John take part in sprints, hill climbs and races every weekend with the MG Car Club. Her dad was three times MGF Abingdon Trophy Race Champion from 1998 to 2000 and her mum has twice been MG Car Club Ladies Hill-climb Champion. Last year her brother Peter was MG Cockshoot Race Champion and Andrew Actman Eyewear MG Midget Race Champion.
Suzy first got a taste for speed when she competed in a Children-in-Need 3-hour Karting event when she was 16 and has been hooked ever since. Needless to say her family are very proud of her. The next stage of the Formula Woman selection is the final 100 contestants qualifying for their racing driver license at Thruxton race circuit in Hampshire.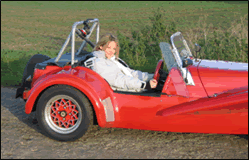 An exciting addition to this year's selection is a chance for 64 of the finalists to compete in an actual race. They will be using Caterham race cars, at Pembery race track in Wales later this month. The 64 will be split into 4 groups of 16 and the 4 group winners will automatically go through to next year's 8-race Formula Woman Championship. The rest will go to a 3-day elimination camp next year to compete for the other 12 places for the Championship next summer. Dates for the race series are yet to be announced.
The build up to the competition, which will be filmed for ITV, is also being followed by a Channel 4 documentary to be aired in 2006 after the 8-race series.
Suzy is being sponsored by Harlequin Fabrics and Wall coverings, based in Loughborough.
Information on formula woman is at www.formulawoman.com where you can read about the competition. Photographs of Suzy on her track days are available on request.
Please contact on 07746 217888 or suzanne_dignan@harlequin.uk.com for further information.