12th June 2007
John and Pauline Dignan win a top place in the Three Castles Rally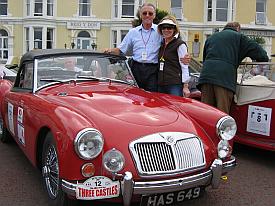 Last week saw John and Pauline Dignan win a top place in the Three Castles Rally in their MGA Roadster classic sports car. Based in Llandudno, an international field of 126 cars battled for three days in the mountains, valleys and coastal plains of North Wales. The competition included precise regularity timing on minor roads and flat out motoring on airfields, stately homes and other non-public roads and tracks.
After the first day John and Pauline had 10 seconds of penalty and were lying first in class and ninth overall, following six special tests and one regularity section. The pace quickened on the second day, with a 7 am start from the Promenade, four regularities and six more special tests, including a hill climb with 25 corners and nearly two miles in length. With an excellent lowest penalty score of the day, just 4 seconds, they jumped to third place overall. The final day had a series of tricky tests and some highly technical and navigational regularity sections. Although the organisers tried to catch out the leading runners, John and Pauline did not put a foot wrong. They cleaned the regularities and dropped just two seconds on the tests. The final result was a first in class, top related crew, a gold medal and second overall. Some ninety crews were classed as finishers and the gala dinner was held at Venue Cymru in Llandudno for the 250 competitors plus over 110 marshals, timekeepers, hospitality teams and other supporting staff.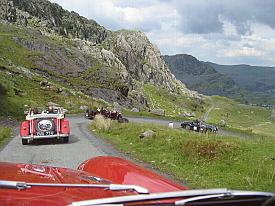 The Three Castles International Rally has moved from strength to strength over the past five years and has attracted crews from all over Europe. The variety of cars competing this year was amazing. All the well known models from the past were represented including Jaguar XK150s and E-Types, an Aston Martin Mk II, a Bentley Mk IV, Triumph TR 3As, several Mini Cooper S', Austin Healey 3000s, a Sunbeam Tiger, Lotus Elan and Elite, Porsche 356, BMW 2002, Alfa Romeo GTV, Ferrari 330 GTC and 246 Dino, Ford Mustang, Chevrolet Corvette and a host of MGs including PB, TA, TD, TF MGA, MGB, Midget and MGC. There were also classes for cars up to 1981 including Porsche 911, Renault Alpine A310, Jensen GT and Triumph TR7.
For the first time, the Duke of Westminster allowed the use of the extensive grounds of his stately home at Eaton Hall and entertained the crews for mid-morning coffee in the splendid Long Room. Other special test locations included the castles of Conwy, Powes and Criccieth and the newly rebuilt racing circuit venue at Ty Croes on Anglesey.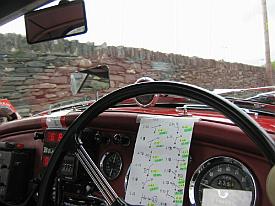 John and Pauline were delighted with their 2nd overall, their best ever UK result. They first started rallying together on the Avon Tour of Britain, way back in 1974 and after a break of a number of years to bring up their four children, have gone back to competing in classic events where they have been outright winners in Spain, France and Italy over the past 5 years. Pauline has also twice been the MG Car Club Ladies speed champion and John has won the overall sprint and hill-climb championship some eight times. Circuit racing has also features from time to time with John being the Abingdon Trophy MGF Race Champion in 1998, 1999 and 2000. Not to be outdone, son Peter was MG Race Champion in an MG Midget in 2004 and daughter Suzanne was a Formula Woman finalist in 2006, winning the team prize and gaining fastest lap in the final race of the season. Apart from rallying, Pauline is currently Lady Captain at Park Hill Golf Club near Seagrave and John works from home as an aviation consultant and flies the RAF's air cadets at Cranwell in his spare time.