21at March 2008
Plus feedback after the Croft test sessions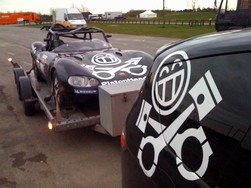 Team PH are putting down their chocolate eggs and picking up a spanner and some racing gloves for this Easter weekend as the team sets out for the first races of the season at Oulton Park.
The race car was picked up from the Ginetta factory in Leeds last Sunday and taken swiftly up to Croft for a couple of days of testing, media shots and general shakedown.
The first thing I notice approaching the car is the lack of doors, so using the roll cage as a climbing frame I squeeze into the car Dukes of Hazzard style and fire up the 1.8-litre Zetec engine.
The croft air is near on freezing and the brand new set of Michelin Pilot Sport tyres have not even turned a metre so conscious of all this I get to the first corner and push the throttle down and… hello spin time.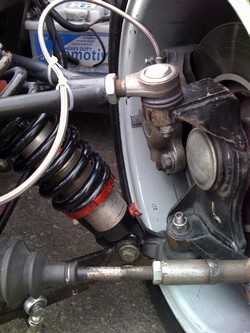 Feeling like a complete novice after not making it through the first corner I then gradually speed up, the engine noticeable very throaty and with a lot of torque low down. But I am still not feeling comfortable with the car and one more spin later I come into the pits to pull the classic racing driver trick and blame the tools for my amateur piloting.
After speaking to several drivers about the sloppiness of the tyres I am informed they take a good 6 laps to wear the sheen from them. With this knowledge I approach the rest of the sessions with a little more caution and build up the speed gently, clocking a 1:38.6 after playing with damper settings, 4 seconds off the lap record.
Still not feeling happy with the car we get hold of a camber gauge to see if my talks of the car sorted round left-handers and not right has something to do with the setup. We find the camber on the right side of the car 1 degree out at the front and half a degree out at the back, so change it to the correct settings.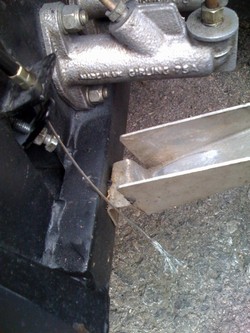 The other problem we are having is the lack of a smooth accelerator pedal, acting more as an on off switch than an analogue device. I solve the problem while changing from 3rd to 4th down the start straight as the grommet holding the throttle cable to the accelerator falls off. The fix requires a shorter cable and an alternative route for the cable which smoothes the cable rub, but really I would like a nylon sheaved cable to stop any rub at all.
At the end of the test sessions we get the time down to 1:36.4, within two seconds of the lap record. We feel the car could do with a proper setup, rather than TeamPH playing and drop it back to Ginetta to have the factory settings installed.
So roll on Oulton Park for the races supporting the British GT on Saturday and Easter Monday. If you are around then come down and support Team PH, if not wish me luck, as I am getting quite nervous about entering the first corner in possible rain with 31 other cars around me…