26th March 2008
Dignan Racing complete opening rounds at Oulton Park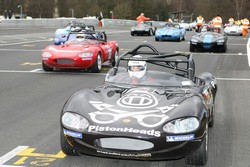 Motorsport clichés. There are many, and sometimes I tend to head them. Fail to prepare and prepare to fail would be one that springs to mind at the start of the first race. The car had been fully prepped; we had tested and shook it down at Croft in the week, cliché met!
Curry club on a Friday night; a love for chocolate; and an argument between a right elbow and my rib cage on a football pitch the night before, unfortunately I didn't. I am sure reading a preview of F1, Hamilton hadn't listed those as his pre-season activities. Oh well, it had worked for club racing.
I am not really sure what I expected arriving at the paddock for the first race. I had been to GT and F3 race meetings before, but arriving with just the S-Max and trailer I was swamped by a motorhome and awning metropolis. Someone had stolen the paddock and built a small town made of lorries and fabric. Suddenly it dawned on me that this is a completely different ball game to the club racing I had previously raced.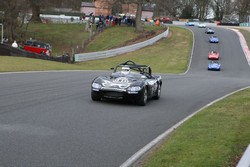 In awe of paddock bikes and teams of mechanics I waited for my willing PH volunteers to appear – or more appropriate find their way to the Team PH car. Out of the morning snow flurries Iain (Chassis33), Rich (sniff_petrol) and Ben (20thebear) turned up and we set about getting the car ready for the scruitineers and racing. I say we, but really Iain, Rich and Ben did the work while I faffed with decals.
Throughout the practice and qualifying I had to learn the track in a new car with my new HANS device. For those that haven't experienced HANS, like me, I felt claustrophobic, not to mention every time you try to look left and right something yanks your head and says no. This makes the mirrors harder to see out of, and when a car appears on your left, it does frighten you. No wonder toddlers cry so much when on reins!
But HANS ignored I set out improving lap times around the circuit for qualifying and managed to put in a 1:59.5, only 1.6 seconds off pole. Unfortunately the closeness of the racing meant that I was 11th on the grid. All to do in the race then!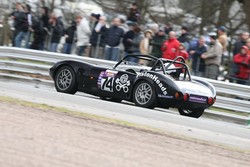 The lights went out and I was racing Ginettas. Conscious of cold tyres and 28 other competitors around me I decided to take it easy, avoided a spinning car through Cascades and set about challenging the leaders, unfortunately I forgot about those cold tyres. Out of Britten's Chicane I decided to floor it and the Ginetta decided to face the other way round.
I returned to the black stuff and the red mist descended as I saw 26 cars in front of me. This was not quite what I had planned, I had to make amends and set off on a mission to get back to a respectable position.
The first race of any season always seems to be a destruction derby. My spin may have helped me avoid most of it by being at the back. But on my fight through the positions I was aided by cars scattering themselves off the track at nearly every corner. Russel McCarthys' car deciding oil was an optional extra helped massively to this carnage, and probably to my comeback. I changed to a wet line through Old Hall and through Cascades where the oil lay.
By the end of the 20 minute race I had made it to 7th overall and returned the car in one piece, not too bad for a days work. Roll on race two!
The second race was not as eventful as the first though, and after a miss-read of the regulations found myself 12th on the grid and not 7th as I had been planning. Next time I must remember that it is the second fastest qualification lap that puts you on the grid and not your finish in the first race.
Remember cold tyres I repeated as a mantra to myself through the first lap, which seemed to work and moved up to 9th. From then on, suffering with under steer through the slow corners, I worked on keeping the car pointing in a straight line and to finish without incident.
The plan half worked as towards the end I decided to try the full throttle approach out of the second chicane and showed off a nice pirouette for the gathered audience. No places lost by my entertainment for the crowd I crossed the line 8th.
All in all the first two races were reasonably successful despite feeling despondent about the 8th place finish. A massive thank you to all the PistonHeaders who came and said hi and to Iain, Rich and Ben (plus their respective supporters) who helped with the car.
Another cliché pops into my head looking back: to finish first, first you have to finish. Well 7th and 8th isn't quite first place, but at least I finished!
Race 1 Results
| | | | | | |
| --- | --- | --- | --- | --- | --- |
| 1 | 28 | Kieran | Vernon | Driver | 20:32.295 |
| 2 | 18 | Paul | Sheard | Speedworks | + 1.040 |
| 3 | 9 | Gary | Simms | Optimum Motorsport | + 3.990 |
| 4 | 46 | Andrew | Smith | Driver | + 23.719 |
| 5 | 52 | Spencer | McCarthy | McCarthy Technology Services Ltd | + 26.550 |
| 6 | 21 | Richard | Sykes | Speedworks | + 57.222 |
| 7 | 74 | Peter | Dignan | Pistonheads | + 1:00.203 |
| 8 | 6 | Matthew | Flowers | Optimum Motorsport | + 1:03.635 |
| 9 | 4 | Paul | Marsh | Tockwith Motorpsort | + 1:04.339 |
| 10 | 58 | Martin | Jones | Hepworth International | + 1:04.767 |
Race 2 Results
| | | | | | |
| --- | --- | --- | --- | --- | --- |
| 1 | 4 | Paul | Marsh | Tockwith Motorpsort | 20:05.109 |
| 2 | 3 | Julian | Barratt | Reflex Racing GB | + 2.662 |
| 3 | 52 | Spencer | McCarthy | McCarthy Technology Services Ltd | + 3.884 |
| 4 | 9 | Gary | Simms | Optimum Motorsport | + 4.184 |
| 5 | 51 | Russel | McCarthy | Driver | + 14.713 |
| 6 | 19 | David | Jackson | Speedworks | + 19.132 |
| 7 | 46 | Andrew | Smith | Driver | + 19.564 |
| 8 | 74 | Peter | Dignan | Pistonheads | + 38.842 |
| 9 | 28 | Kieran | Vernon | Driver | + 45.413 |
| 10 | 26 | Jonathan | Hawkins | FNH Racing | + 46.398 |